Have you ever want to offer Speech Recognition enabled applications?
Anything from the most basic IVR or digital receptionist through to complex voice ordering and web enabled database solutions well now you can, and the best part is you can do this only by paying for what you use as an ASP service.
No longer do you need to outlay $40-$100,000 on Speech Recognition software and servers, you can now use this on a pay as you go basis.
I've been involved with a working committee of Asterisk developers who have in conjunction with www.tellme.com one of the worlds leading Speech Recognition providers (their customers include Amazon.com, American Airlines, Dominos, Etrade amongst many others http://www.tellme.com/milestones.html )
This working committee have now developed a set of Speech Recognition applications that you can download for free, and in conjunction with Asterisk you will be able to utilize the power of the Tellme servers as an on demand ASP only paying for what you use.
The Tellme service works like this.
A call comes in to your PABX (either your Asterisk PABX or any old Analog PABX).

The call is transferred to the Asterisk vxml applications.

The speech recognition control is handed over to the Tellme servers

From here you can initiate any action e.g. read back some information on a house you have for sale, read out an order status, find the nearest store location?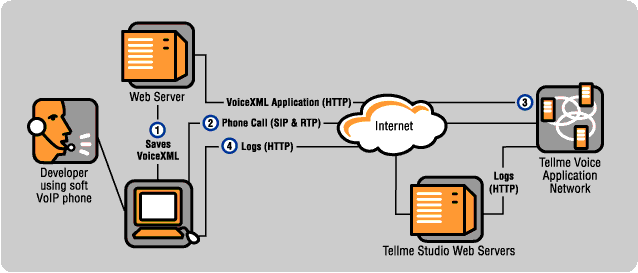 These applications are available for integration into any back end database, directory, web server, pabx extension list etc you like. You can either develop these open source applications for yourself or if you prefer there are Asterisk developers all over the world who can customize to your specifications.
The power of Open Source Asterisk along with the on demand Pay-As-You-Go service from Tellme is ready for you now.
If you have the 'in house' development skill set a lot of information is available on the Asterisk wiki now, if you don't have these skills or would like an experienced external developer to work with your team email me and I will provide you a list of developers around the world who are able to customize to your specifications.
When you are ready you will need to email me for contact details at Tellme in order to set up an account with them directly depending on your location and requirement.
I hope this information has been of interest to you.
This project is kind of stasis at the moment; check out http://www.voip-info.org/wiki/view/tellme for updates
Dean Collins
Cognation Pty Ltd
dean@cognation.net
+1-212-203-4357
+61-2-9016-5642